Red cushion star (Porania (Porania) pulvillus)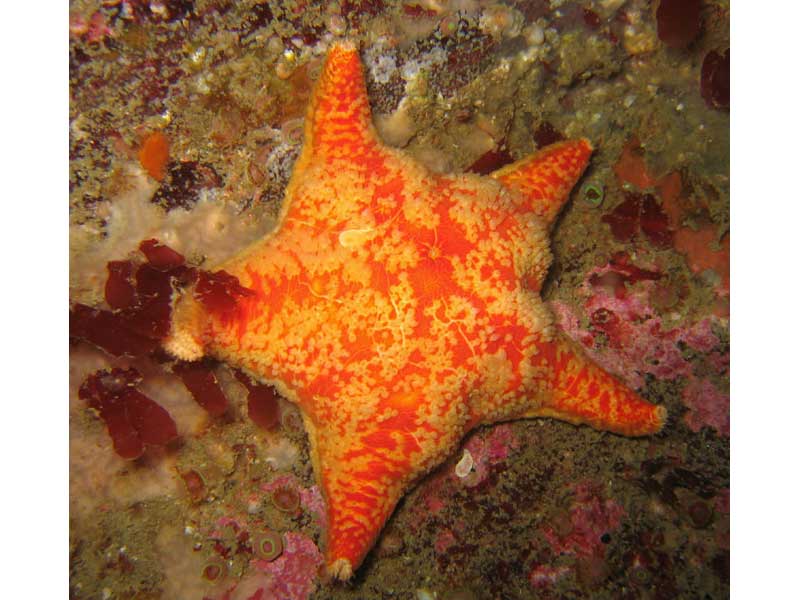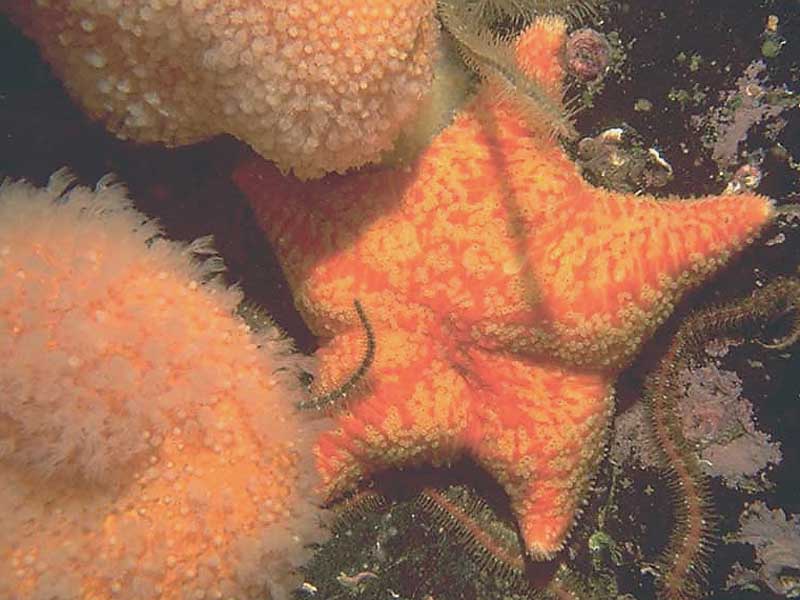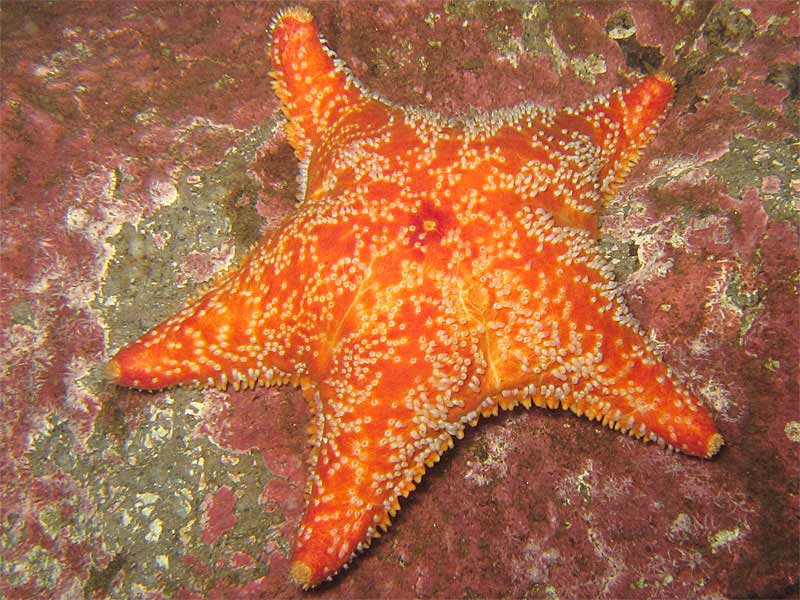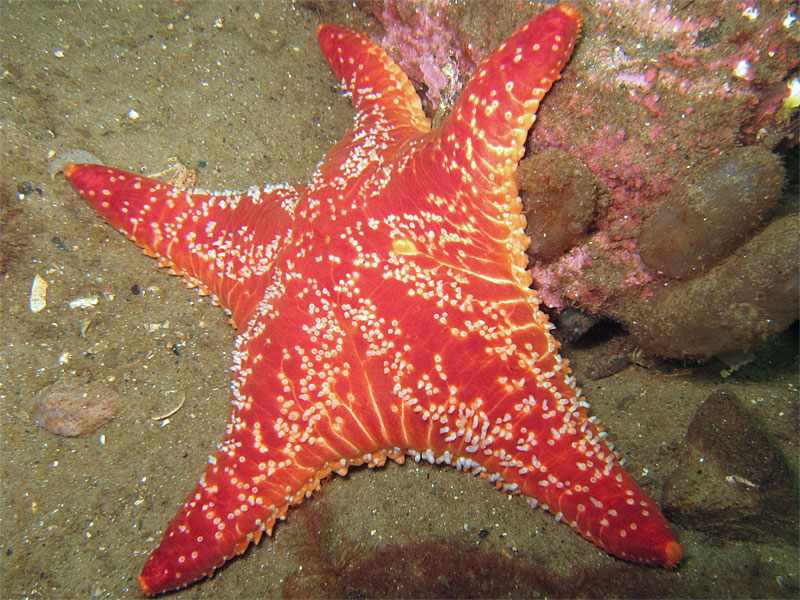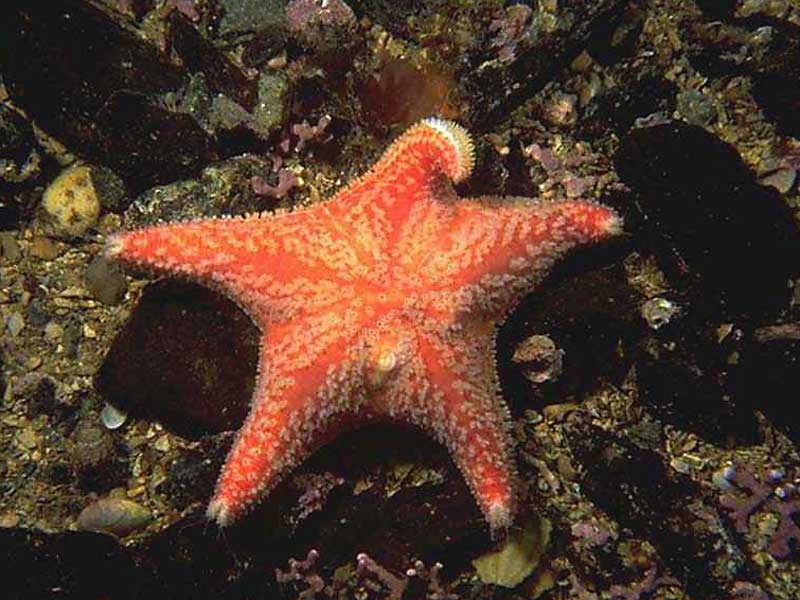 Researched by
Saskiya Richards
Refereed by
Admin
Authority
(O.F. Müller, 1776)
Other common names
-
Synonyms
-
Summary
Description
Porania pulvillus is a cushion starfish that reaches up to 11-12 cm in diameter. The upper (aboral) surface is usually bright red but may be purple, orange or yellow and is marked with a pattern of white or yellowish spots and bands that radiate from the centre. The colour of the underside (oral surface) is pale in contrast. The aboral surface is smooth with a greasy texture and is scattered with clusters of white, yellowish or translucent soft papillae that act as gills. Porania pulvillus has five short, broad arms that narrow towards the ends and extend from a large, convex, central disc. Each arm is edged with two rows of small ossicles (marginal plates) on either side. The ossicles of the upper row are smooth whereas those of the lower row each bear 3-5 spines giving a narrow, fringe-like appearance. The underside of each arm has a narrow ambulacral groove bearing numerous suckered tube feet and has a margin of two rows of spines on either side. The central oral region is marked by radiating grooves between the axes of each arm.
Recorded distribution in Britain and Ireland
Porania pulvillus is widespread on all coasts except on the North Sea coasts of England. It is particularly abundant in west Scotland.
Global distribution
Porania pulvillus is distributed from Iceland and northern Norway southwards to the Bay of Biscay and northern Spain in the eastern Atlantic, and from Newfoundland to Carolina in the western Atlantic.
Habitat
Porania pulvillus is found on rocks and the holdfasts of kelp and on muddy, mixed and coarse substrata between 10-300 m. Occasionally, this species may be found at depths up to 1000 m.
Identifying features
Large, convex, central disc.
Cushion starfish up to 12 cm in diameter.
Upper surface coloured bright red, purple, orange or yellow mottled with white or yellow spots and streaks.
Clusters of white, yellow or translucent papillae on upper surface.
Each of the 5 arms fringed with 3-5 spines on each ossicle.
This species lacks any pedicellariae.
Additional information
Porania pulvillus is a gonochoristic species that reproduces by external fertilization via a planktonic larval stage. It feeds on detritus and the soft coral Alcyonium digitatum. Jenkins et al. (2001) reported that Porania pulvillus was little affected by scallop dredging.
Bibliography
Crothers, J. A., 1997. A key to the major groups of British marine invertebrates. Field Studies, 9, 1-177.

Gibson, R., Hextall, B. & Rogers, A., 2001. Photographic guide to the sea and seashore life of Britain and north-west Europe. Oxford: Oxford University Press.

Hayward, P., Nelson-Smith, T. & Shields, C. 1996. Collins pocket guide. Sea shore of Britain and northern Europe. London: HarperCollins.

Hayward, P.J. & Ryland, J.S. (ed.) 1995b. Handbook of the marine fauna of North-West Europe. Oxford: Oxford University Press.

Howson, C.M. & Picton, B.E., 1997. The species directory of the marine fauna and flora of the British Isles and surrounding seas. Belfast: Ulster Museum. [Ulster Museum publication, no. 276.]

Jenkins, S.R., Beukers-Stewart, B.D. & Brand, A.R., 2001. Impact of scallop dredging on benthic megafauna: a comparison of damage levels in captured and non-captured organisms. Marine Ecology Progress Series, 215, 297-301.

MBA (Marine Biological Association), 1957. Plymouth Marine Fauna. Plymouth: Marine Biological Association of the United Kingdom.

Mortensen, T.H., 1927. Handbook of the echinoderms of the British Isles. London: Humphrey Milford, Oxford University Press.

Picton, B.E. & Costello, M.J., 1998. BioMar biotope viewer: a guide to marine habitats, fauna and flora of Britain and Ireland. [CD-ROM] Environmental Sciences Unit, Trinity College, Dublin.

Picton, B.E., 1993. A field guide to the shallow-water echinoderms of the British Isles. London: Immel Publishing Ltd.

Southward, E.C. & Campbell, A.C., 2006. Echinoderms. The Linnean Society of London. Avon: The Bath Press. [Synopses of the British Fauna No. 56.]
Datasets
Citation
This review can be cited as:
Richards, S. 2007. Porania (Porania) pulvillus Red cushion star. In Tyler-Walters H. and Hiscock K. Marine Life Information Network: Biology and Sensitivity Key Information Reviews, [on-line]. Plymouth: Marine Biological Association of the United Kingdom. [cited 02-12-2023]. Available from: https://marlin.ac.uk/species/detail/27
---
Last Updated: 12/09/2007