Circular crab (Atelecyclus rotundatus)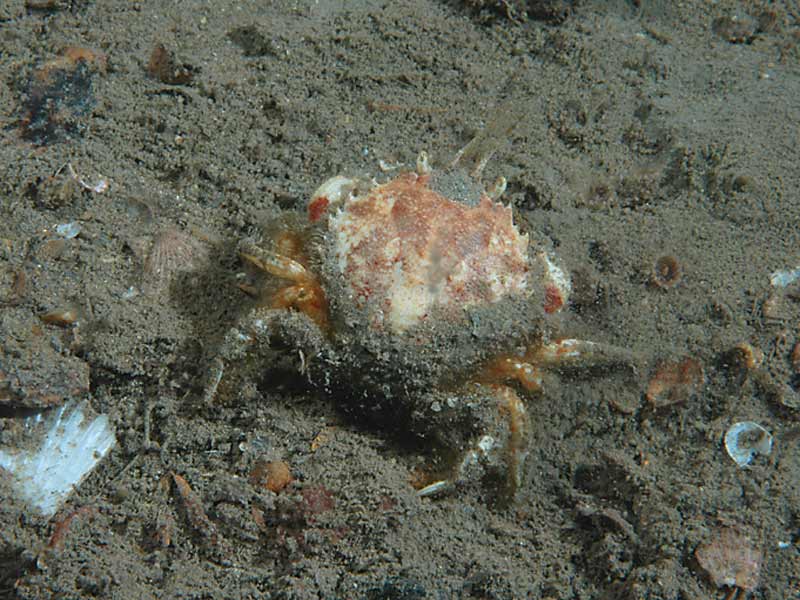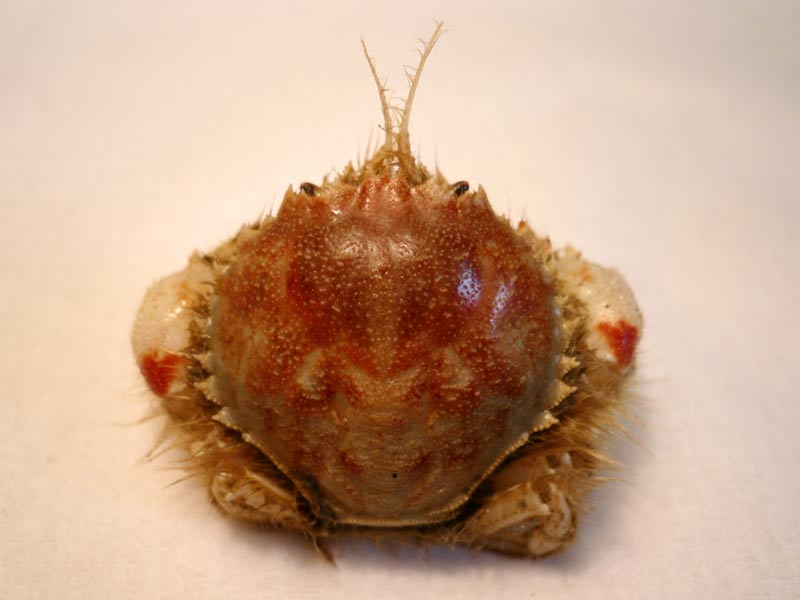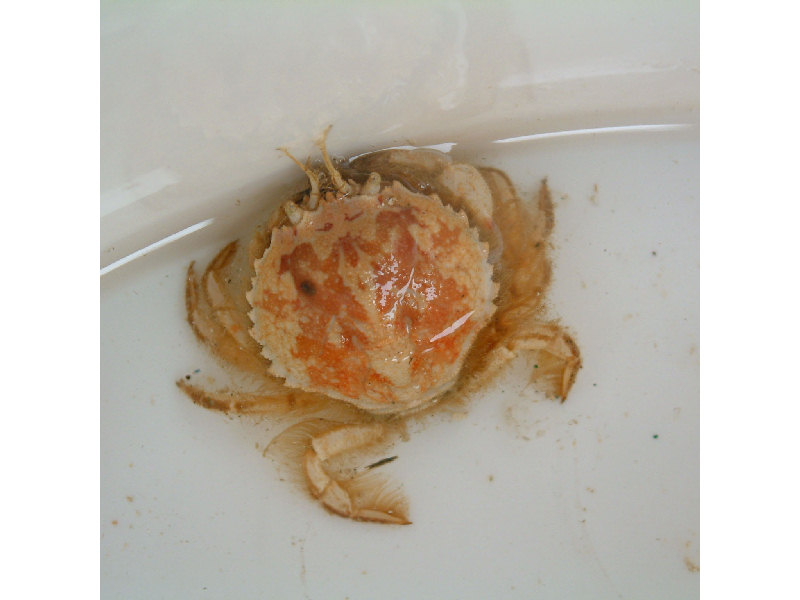 Researched by
Sonia Rowley
Refereed by
Admin
Authority
(Olivi, 1792)
Other common names
-
Synonyms
-
Summary
Description
Atelecyclus rotundatus has a reddish-brown carapace, light brown limbs, and black claws (chelae). This species has an almost circular carapace, up to 5 cm in diameter. The carapace bears short transverse, granular grooves on its upper surface and very hairy margins. There are 9-11 sharp teeth on the front and side margins of the carapace and 3 teeth between the eyes, central one being distinctly longer than the other two. Its chelipeds are robust and equal in size, with males having two large tubercules on the upper surface of the propodus. The legs (pereiopods) are slightly flattened with hairy margins. This species also has a long second antenna.
Recorded distribution in Britain and Ireland
This is a common species with records throughout the British Isles.
Habitat
This species can be found from the shallow sublittoral down to >300 m depth off shore. It can be on sand or gravel substrates.
Identifying features
Reddish-brown, almost circular carapace up to 5 cm in diameter.
Light brown limbs and black chelae.
Carapace and limb margins are very hairy.
Three teeth between the eyes, central one distinctly longer.
Long second antenna.
Additional information
Atelecyclus rotundatus
bears eggs from February to September with planktonic larvae present from February to November. This species is eaten by
Gadus morhua
and
Raja
spp.
Atelecyclus rotundatus
may also be mistaken for the less common
Atelecyclus undecimdentatus
. But
Atelecyclus undecimdendatus
has a much broader carapace and coarser granulations than
Atelecyclus rotundatus
. The thumbnail crab,
Thia scutellata
is also similar, but lacks teeth on the front of its carapace.
Interestingly, Atelecyclus rotundatus buries itself by digging backwards into the substrata, and reverses its respiratory water flow through its branchial chambers to prevent suffocation (Tayor, 1984). In order to maintain sufficient respiratory currents, this species (akin to Carcinus maenas, Cancer pagurus, Crangon crangon, Bathynectes longipes, Corystes cassivelaunus for example) holds its chelipeds close to its body creating a respiratory channel with the larger second antenna. Taylor (1984) noted that when burried, its gill bailer (scaphognathite) beats in the opposite direction to normal, pumping water out at the base of the limbs instead of drawing water in.
Bibliography
Bruce, J.R., Colman, J.S. & Jones, N.S., 1963. Marine fauna of the Isle of Man. Liverpool: Liverpool University Press.

Costello, M.J., Bouchet, P., Boxshall, G., Emblow, C. & Vanden Berghe, E., 2004. European Register of Marine Species [On-line]. http://www.marbef.org/data/erms.php,

Crothers, J. & Crothers, M., 1988. A key to the crabs and crab-like animals of British inshore waters. Somerset, England: Field Studies Council. [AIDGAP guide, no. 155.]

Crothers, J.H. (ed.), 1966. Dale Fort Marine Fauna. London: Field Studies Council.

Foster-Smith, J. (ed.), 2000. The marine fauna and flora of the Cullercoats District. Marine species records for the North East Coast of England. Sunderland: Penshaw Press, for the Dove Marine Laboratory, University of Newcastle upon Tyne.

Gibson, R., Hextall, B. & Rogers, A., 2001. Photographic guide to the sea and seashore life of Britain and north-west Europe. Oxford: Oxford University Press.

Hayward, P., Nelson-Smith, T. & Shields, C. 1996. Collins pocket guide. Sea shore of Britain and northern Europe. London: HarperCollins.

Hayward, P.J. & Ryland, J.S. (ed.) 1995b. Handbook of the marine fauna of North-West Europe. Oxford: Oxford University Press.

Howson, C.M. & Picton, B.E., 1997. The species directory of the marine fauna and flora of the British Isles and surrounding seas. Belfast: Ulster Museum. [Ulster Museum publication, no. 276.]

Ingle, R., 1997. Crayfishes, lobsters and crabs of Europe. An illustrated guide to common and traded species. London: Chapman and Hall.

Ingle, R.W., 1983. Shallow-water Crabs. Cambridge: Cambridge University Press.[Synopses of the British Fauna No. 25].

MarLIN (Marine Life Information Network), 2005. SEArchable BEnthic Data (SEABED) Map [on-line]. Data Access Sub-programme, Marine Life Information Network for Britian and Ireland http://www.marlin.ac.uk,

Taylor, A.C., 1984. Branchial ventilation in the burrowing crab, Atelecyclus rotundatus. Journal of the Marine Biological Association. 64(1), 7-20
Datasets
Citation
This review can be cited as:
Rowley, S.J. 2007. Atelecyclus rotundatus Circular crab. In Tyler-Walters H. and Hiscock K. Marine Life Information Network: Biology and Sensitivity Key Information Reviews, [on-line]. Plymouth: Marine Biological Association of the United Kingdom. [cited 10-12-2023]. Available from: https://marlin.ac.uk/species/detail/2197
---
Last Updated: 03/07/2007