Open simnia (Simnia patula)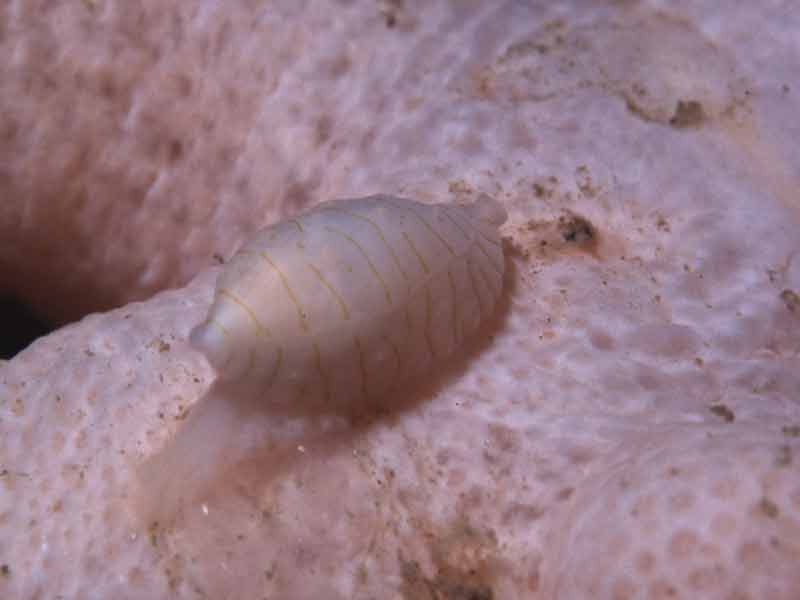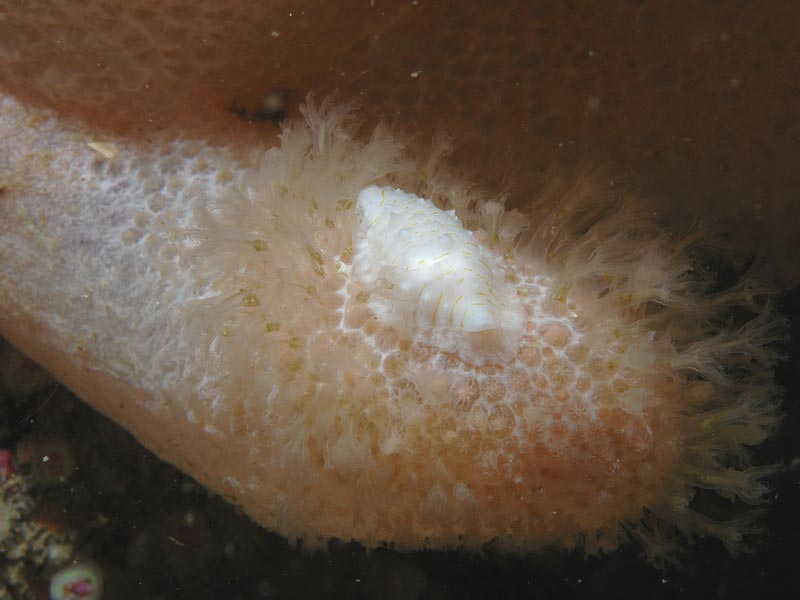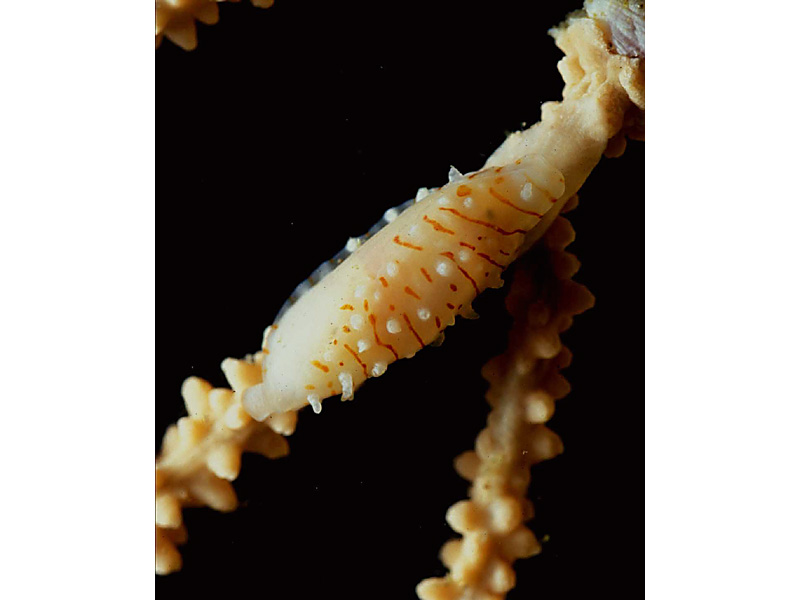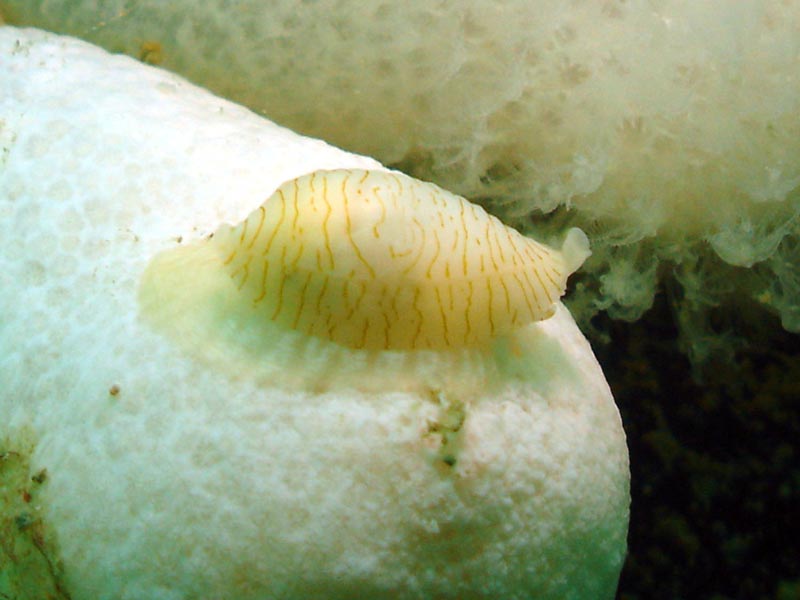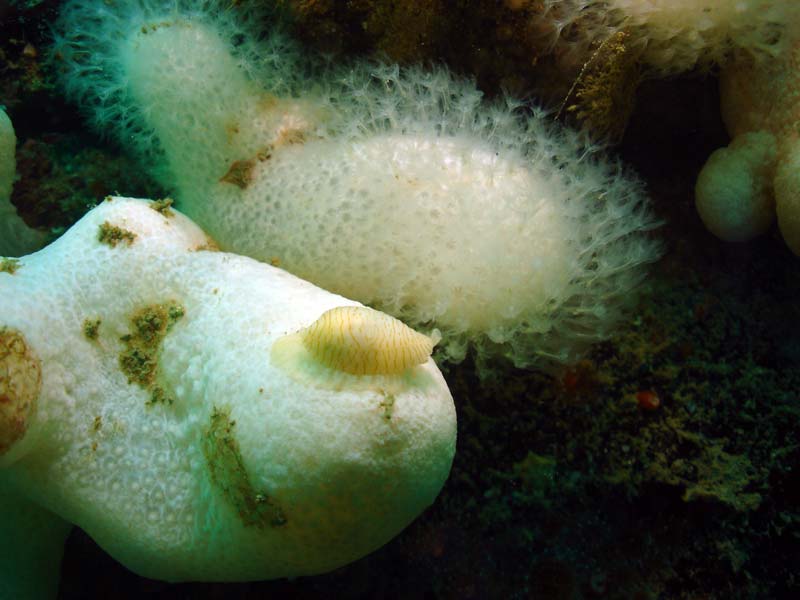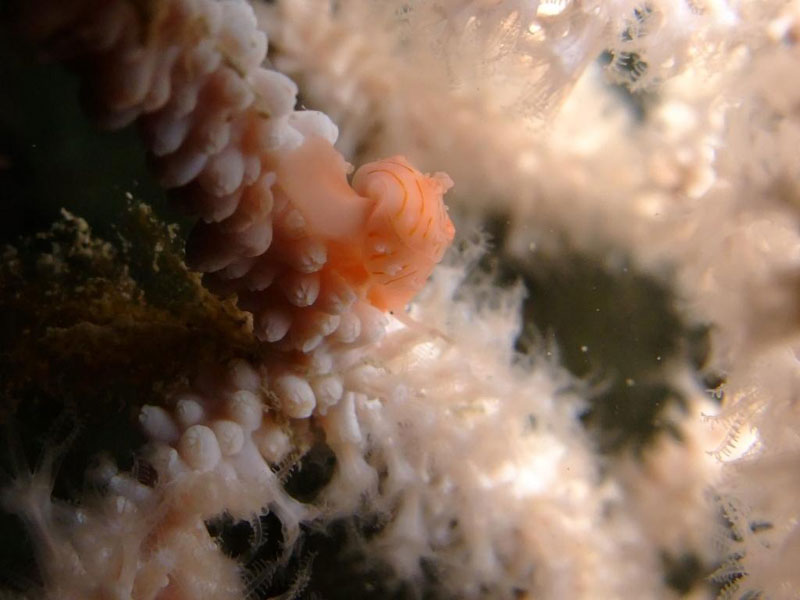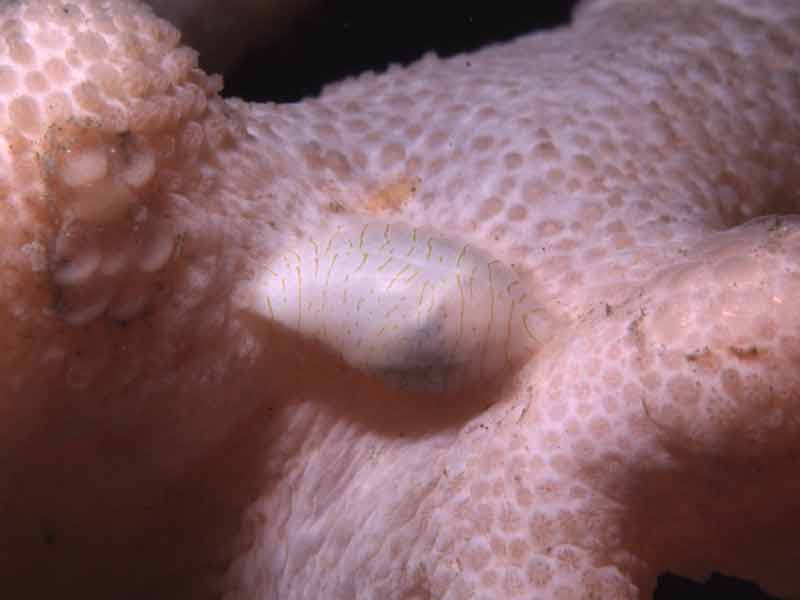 Researched by
Sonia Rowley
Refereed by
Admin
Authority
(Pennant, 1777)
Other common names
-
Synonyms
-
Summary
Description
Simnia patula is a small species of up to 2 cm long and 0.8 cm wide. It has a thin glossy shell that is oval in shape. In adults, its shell is convoluted with a spire enclosed by the body whorl. However, in young individuals the spire is exposed, with three swollen whorls. The aperture is elongate and oval, with flared lips that are longer than the other parts of the shell. The lips extend at each end into a canal. The basal inhalant canal is much broader and less distinct from the aperture than the apical exhalent canal. Simnua patula has no operculum and the extremities of the shell may be ornamented with growth rings. The colour of the shell can be white, yellow or pinkish with a yellow body having brown streaks and spots primarily on the mantle. In this species the mantle edge actually forms an inhalant siphon. The mantle also has 2 large lateral flaps that cover the shell when the animal is mobile. Simnua patula has a large foot that is ridged longitudinally and pink at the front. The head bears two long tentacles that are white on the upper surface with brown tips. Each tentacle has a basal eye that may be visible with a hand lens.
Recorded distribution in Britain and Ireland
Records extend from the south-west of England and Wales, throughout Ireland and some Scottish coasts. This species is probably under recorded.
Identifying features
Small species up to 2 cm long and 0.8 cm diameter.
Thin glossy convoluted, oval shell.
Elongate, oval aperture with flared lips longer than the rest of the shell.
A white, yellow or pinkish shell.
The body is yellow with brown streaks and spots primarily on the mantle.
The mantle has two flaps which cover the mantle when the animal is active.
Additional information
Simnua patula feeds on Alcyonium digitatum, Eunicella verrucosa and the hydroid Tubularia indivisa. It lays its eggs in egg capsules in an irregular roundish mass spread in a layer over an inch thick on Alcyonium digitatum colonies. Each egg capsule is ca 0.35 cm in diameter and round to polygonal in shape and stick together in a tough, slightly yellowish - colourless layer (Lebour, 1932). All of the eggs develop into free-swimming larvae which can be the predominant larval species in the plankton during the summer months, especially August. Lebour (1932) noted that Simnua patula appear to have a long larval stage as the late larvae lived for several weeks without losing the velum.
Bibliography
Costello, M.J., Bouchet, P., Boxshall, G., Emblow, C. & Vanden Berghe, E., 2004. European Register of Marine Species [On-line]. http://www.marbef.org/data/erms.php,

Crothers, J.H. (ed.), 1966. Dale Fort Marine Fauna. London: Field Studies Council.

Foster-Smith, J. (ed.), 2000. The marine fauna and flora of the Cullercoats District. Marine species records for the North East Coast of England. Sunderland: Penshaw Press, for the Dove Marine Laboratory, University of Newcastle upon Tyne.

Graham, A., 1988. Molluscs: prosobranchs and pyramellid gastropods (2nd ed.). Leiden: E.J. Brill/Dr W. Backhuys. [Synopses of the British Fauna No. 2]

Hayward, P., Nelson-Smith, T. & Shields, C. 1996. Collins pocket guide. Sea shore of Britain and northern Europe. London: HarperCollins.

Howson, C.M. & Picton, B.E., 1997. The species directory of the marine fauna and flora of the British Isles and surrounding seas. Belfast: Ulster Museum. [Ulster Museum publication, no. 276.]

Lebour, M.V., 1932. The Larval Stages of Simnia patula. Journal of the Marine Biological Association, 18, 107-115.

MarLIN (Marine Life Information Network), 2005. SEArchable BEnthic Data (SEABED) Map [on-line]. Data Access Sub-programme, Marine Life Information Network for Britian and Ireland http://www.marlin.ac.uk,

MBA (Marine Biological Association), 1957. Plymouth Marine Fauna. Plymouth: Marine Biological Association of the United Kingdom.

Norton, T.A., Hiscock, K. & Kitching, J.A., 1977. The Ecology of Lough Ine XX. The Laminaria forest at Carrigathorna. Journal of Ecology, 65, 919-941.

Picton, B.E. & Morrow, C.C., 2000. Encyclopaedia of Marine Life of Britain and Ireland. http://www.habitas.org.uk/marinelife/index.html, 2003-09-18

Seaward, D.R., 1990. Distribution of marine molluscs of north west Europe. Peterborough: Nature Conservancy Council.

Wood. C., 2005. Seasearch guide to sea anemones and corals of Britain and Ireland. Ross-on-Wye: Marine Conservation Society.
Datasets
Citation
This review can be cited as:
Rowley, S.J. 2008. Simnia patula Open simnia. In Tyler-Walters H. and Hiscock K. Marine Life Information Network: Biology and Sensitivity Key Information Reviews, [on-line]. Plymouth: Marine Biological Association of the United Kingdom. [cited 10-12-2023]. Available from: https://marlin.ac.uk/species/detail/3
---
Last Updated: 03/07/2008